About
The Power to Process
Hagerty Steel & Aluminum Company is a widely respected metals service center and has prospered since its modest start in the late 1800s.
Originally known as Hagerty, Hunter & Company, Hagerty served flour mills, grain elevators, and distilleries in the Peoria area. In 1906, the company's name became Hagerty Brothers, and then in 1928, steel was added to the company's offerings. The business moved to its current East Peoria location in 1960.
In February of 2000, the steel division of Hagerty Brothers was acquired by Liebovich Bros.,Inc. of Rockford, Illinois. Liebovich Bros. is a subsidiary of Reliance Steel & Aluminum Co.
As the company's growth accelerated into the next decade and word of its impeccable service reached more customers and markets, Hagerty's operations were expanded in April, 2012 with the opening of a modern branch in Bridgeton, MO to accommodate increasing demand.
Because Hagerty is committed to remaining at the forefront of our industry, we continue to invest in the latest technology and equipment and will continue to enhance our mix of products and services as an ongoing way to provide our customers with the best supplier experience in the business.
We believe our diverse offerings of products and services coupled with impeccable service are what have set us apart from our competition over the years. That is why our company is dedicated to the process of continuous improvement so that we can continue to earn the business and respect of our customers for years to come.
Hagerty is proud to be an ISO 9001:2015 certified organization and would welcome the opportunity to apply our full capabilities to your next steel or aluminum project.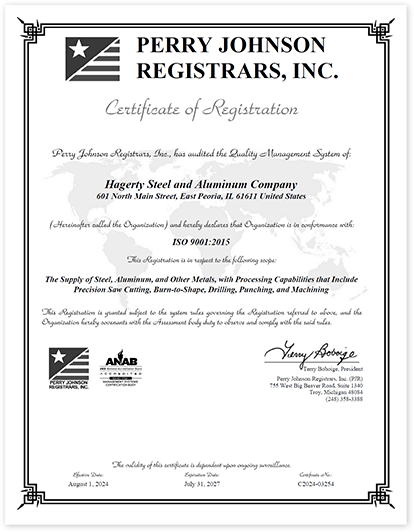 Hagerty Steel & Aluminum Company ISO 9001:2015 Certificate